Well-known member
GOLD Site Supporter
We have finally settled on a floorplan for the bathroom. We have a contractor hired starting late January. He will do everything except plumbing. We just ordered a tub, sinks and faucets for both the tub and the sinks.
We debated quite a bit on the layout and settled on this.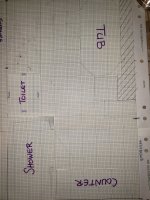 We decided on a freestanding soaker tub without any jets. Ideally we wanted the shower sitting where the tub is but as those are outside walls, plumbing became an issue. So we went with a shower where the current tub is located so we can have jets in the walls.
We're going with a heated floor with grey tiles and white marble tiles in the shower. The sinks will be raised white bowls. All the faucets will be a brushed aluminum look.