Proudly Deplorable
GOLD Site Supporter
My '95 Dodge one ton dually has begun to use oil, well lose oil is more like it, to the point it needs a quart every five hundred miles or so. I'm not fond of the replenishment system of oil changes so it goes in the shop where they have to lift the engine to replace the oil pan seal. 350 K miles on the clock, I'm not surprised by the oil leak but the engine should be sound. And the body shop is anxious to get started on the restoration/repaint. About 10 weeks in their shop.
However,,,;
On the way to the shop the engine light came on. So I have no idea what that means in terms of keeping the truck. Meanwhile, I have a 310 JD construction tractor in southern Indiana and a host of projects where I need my big truck. Add to that the 2005 Jeep Grand Cherokee keeps having BS issues with electronics and drive train, I'm just gonna sell it.
So I picked up this 96 off E-bay for about $8 grand. It has some cosmetic issues but appears to be mechanically sound. It's an automatic, I hate them, but with this one at least my wife can drive it.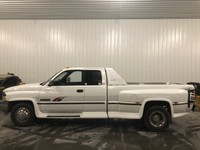 ENDED
1 of 23 images
1997 Dodge Ram 3500
( 303855301641 )
bbination2
345
Feedback percentage of
100%
This item is out of stock
I always say "
real trucks have dually wheels, manual transmissions and say CUMMINS on the side."
But replacing the Jeep means the wife has to have the auto. And, temporarily, I need a big truck. So at least for the interim, whilst my good ole' boy I've owned since new, is in the shop getting fixed and a paint job, I'll have a truck.
These '95 to 2001 series Dodge trucks with the Cummins are in high demand right now. I've seen models like mine, with a new paint job and interior ,is fetching over $15K. This one needs about $1,000 worth of body work, some new seat upholstery, and a super clean up.