Bottoms Up
Staff member
GOLD Site Supporter
Last summer I installed a new flagpole. Aluminum telescoping 20 ft. I purchased it from 'The Stand Flagpoles.
https://standflagpoles.com/
They advertise premium flagpoles that can withstand winds of 100mph and more.
Last night my area had winds of 62 MPH reported. Here is what my 6 month old flagpole looks like.
Took the flag off after taking pic.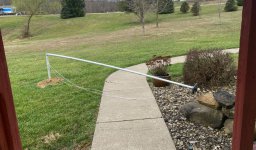 Have contacted company. Hope to get a replacement but the word guarantee is no where on their web site. Still fingers crossed.