Jerk in a Hawaiian Shirt & SNOWCAT Moderator
Staff member
GOLD Site Supporter
South Carolina US Senator Tim Scott is the 2nd person to enter the GOP contest to win the nomination for Republican candidate for US President. He has a lot of positives going for him. But there is no question that his other official contender, Donald Trump, will do a lot to steam roll over Senator Scott's campaign.
Scott is charismatic, he tends to upset the liberal narrative and as even been referred to by the "n-word" by Democrats. His message appeals to whites, hispanics and many blacks, but not to liberals, who see him as a threat.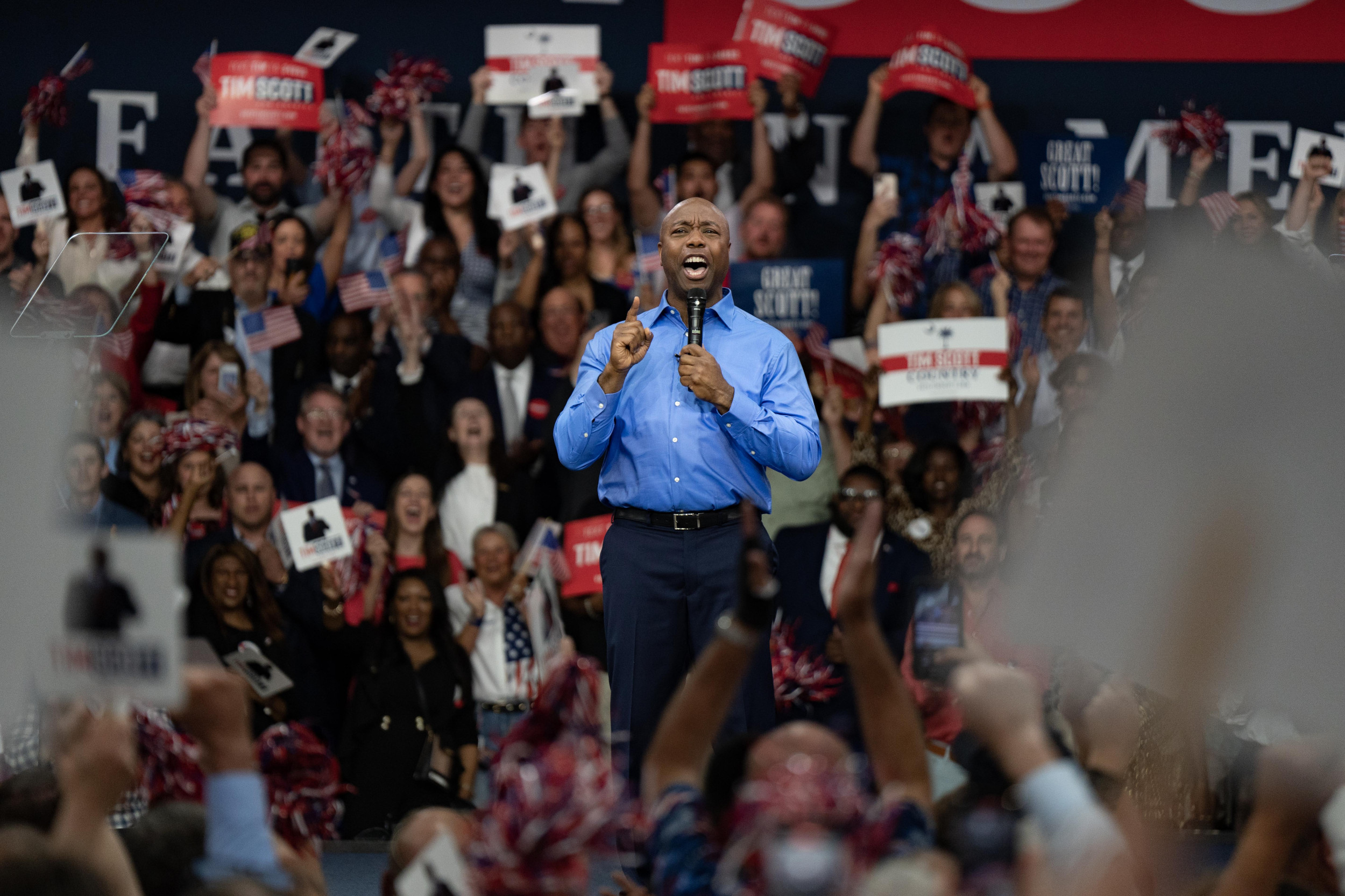 Senator Tim Scott is taking a happy warrior approach to a Republican primary field dominated by culture wars. Is the public ready for that optimistic message?

www.newsweek.com
Go to Newsweek for additional coverage. They seem to be doing a great job of providing nice balanced reporting on politics.
​
​
Tim Scott Bets on Trump Supporters' Attraction to Optimism

​
South Carolina Senator Tim Scott officially announced his campaign for president on Monday, ending months of speculation that the rising GOP star would add his name to the rapidly growing field for the Republican nomination in 2024.
​
​
Facing a field of culture warriors and rhetorical flamethrowers, however, it's likely he enters the race facing an uphill battle. But like his message, his electoral prospects are rooted in optimism.
​
​
Speaking at the same Charleston Southern University from which he graduated, the junior senator's speech before a packed room in North Charleston had all the hallmarks of those given by other candidates already in the race.
​
​
He lambasted the country's "weak" leadership under President Joe Biden, and how the United States had become "a nation in retreat." He claimed Democrats were pushing America to a culture of grievance, rather than greatness, of denying its legacy of seeing dignity in the toils of its labor.
​
​
But for a candidate whose presidential ambitions were first made clear in a video earlier this year outside the site where the first shots of the Civil War were fired, Scott's speech presented the culmination of a story that began well before his upbringing in an impoverished single-parent household in the hardscrabble city of North Charleston.
​
​
His run for president, he said, shattered Democratic narratives, and proved the United States was a country of opportunity where anyone of the poorest means could succeed if they were willing to put in the work.
​
​
"I'm the candidate the far left fears the most," Scott said Monday. "When I cut your taxes, they called me a prop. When I re-funded the police, they called me a token. When I pushed back on President Biden, they even called me the n-word. I disrupt their narrative. I threaten their control. The truth of my life disproves their lies."
​
​
One decade ago, then-Representative Scott was relatively unknown outside his home state—an anomaly on Capitol Hill even in a rapidly changing time in Washington.
​
​
The state's first Black Republican congressman since Reconstruction, the second-term House member had few peers in D.C., making headlines after declining to join the Democratically dominant Congressional Black Caucus as a freshman in 2010.
​
​
"My campaign was never about race," he said at the time, harkening to previous comments he'd made expressing a tendency to "shy away from things that create some kind of boundaries."
​
​
"It highlights the divisions I've been pushing forward to erase," he said.
​
​
As a senator, it's an ethos he has hoped to embrace, particularly as the lone Black Republican in the Senate.
​
​
On the Hill, Scott has long been perceived as a pragmatist, a conservative willing to cross the political aisle for initiatives like federal police reforms.
​
​
In 2021, he was pegged to offer the Republican rebuttal to Biden's State of the Union Address, cementing him as a thought leader of the modern conservative movement. He's also become a favorite of the donor class, using his more moderate brand as a springboard to become the second-leading fundraiser in Congress behind Georgia Democratic Senator Raphael Warnock, whose war chest has helped him win two of the most contentious statewide elections in U.S. history.
​
​
Taking the fight national

​
But relatively untested outside the Beltway, the question remains whether Scott can claim victory on a national stage.
​
​
His most recent election in South Carolina—a 25-point victory over Democratic state Representative Krystle Matthews—was against a candidate plagued by scandal after audio emerged of her appearing to advocate the use of drug money for political campaigns.
​
​
South Carolina also has not been seriously competitive in a general election in years. The most contentious race in recent memory, the 2020 contest between Republican Senator Lindsey Graham and current Democratic National Committee Chairman Jaime Harrison resulted in a 10-point Republican victory.
​
​
Outside of South Carolina, Scott is likely to face an uphill battle to become competitive.
​
​
From a policy perspective, much of what Scott championed in his Monday announcement was standard fare for the contemporary Republican Party. While he spoke of a new era of economic resurgence and escalated spending on emerging technology and research, he also called for boilerplate conservative policies from building a border wall between the U.S. and Mexico to bolstering the U.S. presence on the world stage.
​
​
He also expressed contempt for Biden's student loan forgiveness program, the need to "back the blue" and make cop-killing a federal crime, and to end the practice of public schools as "centers of indoctrination."
​
​
"Less CRT, and more ABCs," he said.
​
​
But right now, there are several others selling the same thing. Even his in-state rival, former Governor Nikki Haley, shared similar sentiments throughout her announcement speech in Charleston this year, echoing Scott's chorus throughout Monday's speech that America was "not a racist country."
​
​
And at this point in the race, several of those candidates are performing much better than Scott, who has shunned his rivals' scorched earth approach to the culture wars with what his campaign has described as a brighter, more optimistic message.
​
​
​
And while Scott has historically outperformed Trump's numbers in elections in his home state, even the most optimistic polls from Palmetto State ahead of the primaries still show Scott performing at single-digit percentages in a multi-candidate field.
​
​
But Scott has something most candidates don't: nearly $22 million in the bank, and a significant level of upside the campaign bets will help his poll numbers into the heat of the Republican primaries.
​
​
While Trump already boasts near-100 percent name recognition, he's also highly divisive, with a base whom polling shows is still reluctant about his chances to win after two consecutive defeats in the national popular vote.
​
​
And while DeSantis' favorables today are considerably higher than Trump's, some believe the Florida governor will begin to become exposed in the retail politics' heavy environment of small, early voting states like Iowa and New Hampshire, where he will be rendered unable to control media narratives like he has in the tightly controlled environ of the governor's mansion.
​
​
It's in this environment that Scott believes he can thrive.
​
​
According to sources close to his campaign, Scott plans to focus the brunt of his attention on those two early-voting states, hoping to leverage his optimistic messaging and personable demeanor into higher numbers at the polls and convince voters there is a viable alternative to the abrasive styles of candidates like Trump and DeSantis.
​
​
His campaign already announced $6 million in advertising spending there over the coming weeks, a total that campaign officials told Newsweek is hoped will enhance his name recognition in the two states before the upcoming Republican debates this summer. Haley, for comparison, has a little more than $4 million in cash-on-hand, according to her most recent campaign disclosures.​
​
"It's just a matter of Tim Scott, and every household across America, to see who he is, to feel the authenticity that you saw here," former Colorado Senator Cory Gardner, a board member on Tim Scott's political action committee, told Newsweek. "And I think that's exactly what we have to do."
​
​
Assuming things go well there, it's on to his home turf of South Carolina, where his campaign hopes to ride its anticipated bump in the polls and an expansive war chest to a strong performance there before a number of other states cast their votes on Super Tuesday.
​
​
In addition to attendees at Monday's rally like former South Carolina Governor Mark Sanford, Scott has the long-standing backing of tech billionaires like Larry Ellison (who was in attendance Monday) as well as the eye of conservative figures like Twitter CEO Elon Musk, who shared video of one of the campaign's recent events with his more than 140 million followers Friday.
​
​
"Great statement," Musk tweeted.
​
​
Even on his home turf, however, Scott is still anticipated to meet challenges.
​
​
Trump maintains a loyal following in the state, drawing thousands to a rally in Florence last year and earning the support of a small roster of top state officials including Governor Henry McMaster.
​
​
DeSantis recently made headlines for a fundraiser attended by several former Trump administration officials in Charleston, raising speculation of wavering support in the state among some of the former president's most ardent backers.
​
​
While Scott's camp acknowledged in press briefings with reporters prior to Monday's announcement that they will need to capture votes from both to be successful, there's still the question of how he plans to go on the offensive against the two frontrunners to accomplish that.
​
​
Even during Monday's announcement speech, Scott paid little attention to his Republican rivals in the race, placing his focus solely on his own platform and its contrasts to Democrats. Haley, meanwhile, was clearly on the attack in her opening speech, directly challenging Trump as emblematic of a fading generation of old leaders and older ideas.
​
​
Though Scott's campaign sees potential with the state's critical evangelical voters—who were critical to Trump's success in the state—prospective entrants in the field, like former Vice President Mike Pence, have spent months building inroads into South Carolina's religious community, making stops at churches throughout the state and even delivering the commencement address at a Christian college in the state capital of Columbia last year.
​
​
Scott and Haley already found themselves in competition for the state's evangelical vote at the Palmetto Family Council's 2024 Vision Forum this spring alongside other hopefuls like Vivek Ramaswamy, all of whom see the state's religious conservatives as key to their 2024 coalitions.
​
​
It was clearly on Scott's mind, who evoked the Epistle to the Ephesians during a call-and-response with the crowd Monday. If that wasn't enough, on the banner behind him, the wall read "Faith in America."
​