Old Salt
SUPER Site Supporter
I love outdoor vintage redwood furniture. When I saw some recently that was long neglected, I could not help myself. I brought the pile home. Here is what I had, a real nice vintage lounger in need of some TLC. This lounger used a spring suspension system to support the cushion. Most of the parts and pieces were there.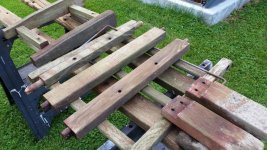 The two redwood 2 x4's were beyond repair, but the rest of the redwood was in remarkably good shape. All the springs and slats were there for the cushion suspension system were still there but two of the special carriage bolts were missing along with most of the wire clips. The wheels were missing as well. No biggie.
Turns out, redwood is nearly impossible to find. One home supply place says they can get some, but wait times can be ridiculous. The best I came up with on the internet was a package of 4 redwood 4x4's x 8 foot for $312 plus shipping from Mendocino, CA. I damn near pulled the plug, but common sense got the best of me.
So, I made the decision to shift gears a bit and use Grade 1 Select Cedar for the 2x4's. Hard decision as my original plan was to use Tung Oil to bring out the look of the wood, but the Cedar and Redwood are not close enough for that to look good, so I elected on using a redwood stain.
Lots of sanding and working on tightening up the mortise and tenons on the arm rests. All stainless steel carriage bolts to support the lags and arm rest.
Here is the result. Not what I had originally planned but all in all a very nice vintage circa 1970's Redwood (almost) lounger for TR to take his summer naps in.