Administrator
Staff member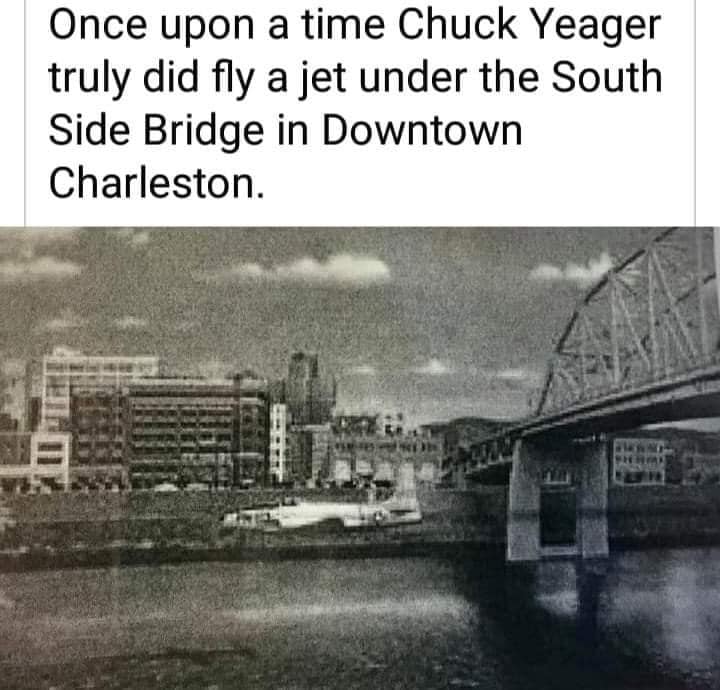 Chuck Yeager sets legendary bridge tale straight​
Charleston Daily Mail
Apr 30, 2010 Updated Jul 29, 2014
He escaped from the Germans, narrowly defied death by parachuting out of a plane at 8,500 feet and became the first man to race the speed of sound and win.
But something finally wore down Gen. Chuck Yeager.
After listening to decades of debate and rumors about his legendary flight under the South Side Bridge in 1948, a year after he broke the sound barrier, Yeager just got tired of hearing the exaggerations, the tall tales and the flat-out lies.
He finally tried to clear things up about the stunt over the Kanawha River in an opinion piece published Wednesday in the Charleston Gazette.
It was another tidbit in the Gazette, a short Potpourri item published earlier this month, which annoyed Yeager enough to address the issue publicly for the first time.
That piece, which appeared April 5, said former Gazette editor Frank Knight solicited Yeager to fly over the Kanawha River during a series of boat races sponsored by the newspaper.
Knight allegedly went through Yeager's friend and former combat partner, Charleston lawyer Paul Bowles, to convince the general to wow the crowd with a dynamic flight near Haddad Riverfront Park.
Not true, the general says.
But the flight was planned well in advance, right?
Nope, Yeager says.
He made two passes under the span?
Hardly.
He also zipped under the Patrick Street bridge and the old Florida railroad bridge?
Most definitely not, he says.
People who say they were there that day swear they know what they saw.
"All you're seeing happen is that people, when they get old, they forget what really happened," Yeager, 87, said in a telephone interview Wednesday from his home in California. "Every year it gets worse. Guys tell things that happened and, hell, none of that happened. I don't know how they come up with that stuff.
"There have been guys that say they have photos, and there's no way. Hell, they've got me going the wrong way down the river.
"As time goes on, hell, people just let their imaginations run away with them."
Yeager doesn't seem to want to spoil the fun for all those Charlestonians who think they know what happened that day in October 1948, a year after the Lincoln County native took the sound barrier-breaking flight that made him world famous.
But there are a few things about the bridge flight stories that still have him puzzled.
He's still a little perturbed about rumors that the Air Force was investigating his trip and considering punishing him for it, and about the fact some other military men criticized him for doing it.
"I got kind of disappointed in the (National) Guard guys because they said I wasn't disciplined, and hell, all I had been doing was fighting in a war. That's all. Just fighting in a war."
The Air Force probably didn't even know what was I was doing," he said. "I was on the other side of the country at Edwards (Air Force Base) doing research, and I just decided on the spur of the moment to visit Momma and Dad. I hadn't seen them in over a year."
Air Force officials probably didn't even know he'd been in West Virginia, he said.
As he wrote in his op-ed piece, after a weekend visit with his family in Hamlin he had his father drive him, on Oct. 10, to Charleston Airport, where he geared up for the quick flight to Wright Field in Dayton, Ohio.
He said Wednesday that when he first approached the Kanawha River from what is now Yeager Airport, it wasn't the South Side Bridge that initially caught his attention.
He was flying around the state Capitol, marveling at it.
"Incidentally, I still say that is the most beautiful Capitol building in the world," Yeager said Wednesday.
He finally came down along the river, headed west, and saw the bridge right there in front of him.
And really, he said, the whole thing, including his decision-making process and the actual flight, happened almost in the blink of an eye. He was going about 500 miles an hour, remember.
"I looked up and saw the bridge and within a second I knew I had clearance," Yeager said.
So he flew right under it.
"I pulled up and then when I saw the guys getting off their boats, I got the hell out of there."
That's it.
Even right after he tucked under the bridge, it didn't strike the general as a big deal. So he was surprised when it spawned decades of speculation.
"You fly so damn many dangerous maneuvers (as a pilot), it just didn't seem like anything," he said.
But to people in his native state, so proud of their hometown boy who changed the world, it was something huge.
It still is.
The general says he's planning a trip to West Virginia in June to make an appearance at the West Virginia Troopers Association's 25th annual conference.
There's probably only one way Yeager, who still frequently flies fast enough to create a sonic boom, will be able to get people to talk about something other than that time he flew under the bridge in 1948.
He should do it again.