It arrived in the mail today.
First off I made a mistake and put it on my backpack without tossing it on the digital scale, so I don't have a weight, but it is very lightweight. Couple of ounces is my guess.
Secondly I'm really impressed by how versitile this is, you can lock the camera into the base in any direction and the base can be screwed down onto just about anything you can get it around (any sort of belt, strap, harness, etc). I bought the cheapest version, with a reinforced plastic backplate and a machined aluminum front plate. The more expensive versions use a machined aluminum backplate instead of the plastic. But the plastic appears to be very strong and solid.
In the box you get the adapter plate that screws into the bottom of your camera's tripod bracket. A hex key to screw the adapter plate into place. A small carry pouch. And the unit itself. Plus instructions. Hardest part to figure out is actually how to unpack it.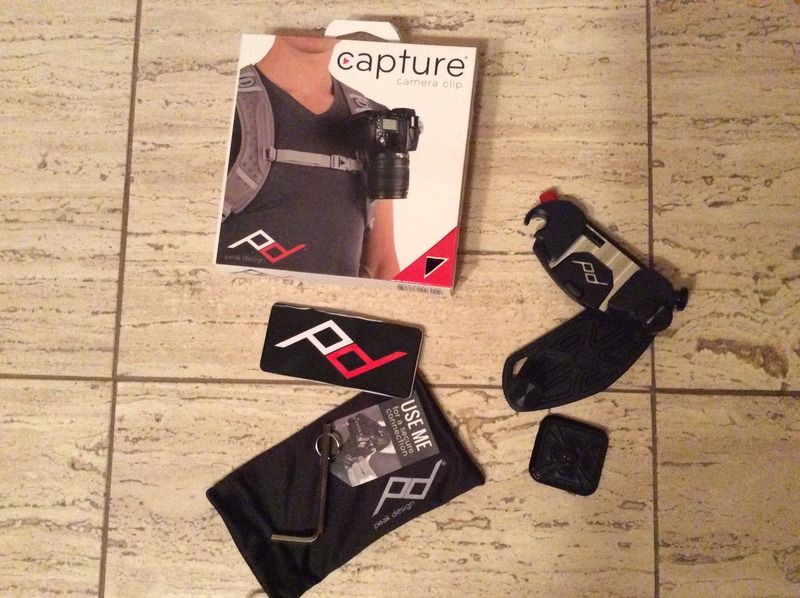 Here is the square adapter plate that you screw into the bottom of the camera, along with the hex key wrench. A flathead screwdriver or a coin will also work as the bottom side has a 'slot' too.
Here is the square adapter plate, next to the main part
(which is shown in the "open" position)
. The RED button is the release that unlocks the adapter plate after it is inserted. The BLACK knob on the side is a tension adjustment. The two BLACK knobs on the top are used to clamp the body of the main unit to your belt, pack strap, shoulder strap, etc.
Looking DOWN from my shoulder you can
(hopefully)
see how it clamps onto my pack strap and how the camera locks into the unit. I moved it around a couple times to find a spot that seemed most comfortable. For now I have it mounted right above the pack's sternum strap.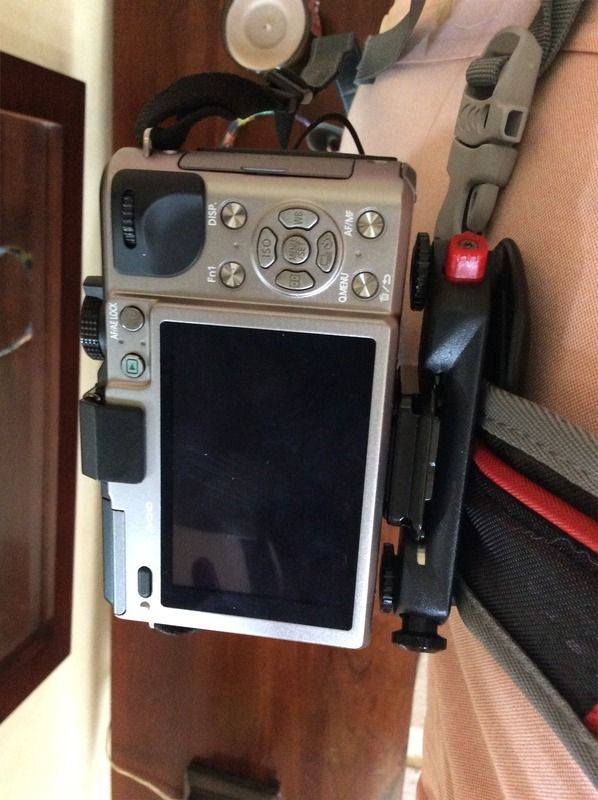 Slightly out of focus, but you can see how the camera rests tight against the front of my body, it can be angled by simply adjusting the angle of the back plate and clamping it down tight. Not sure, but I may remove the neck strap from the camera?
Here is the ONE downside that I see when used with THIS SPECIFIC camera. . .
the door to the battery compartment does not fully open with the adapter plate installed. So at the end of every day the adapter plate has to be removed so the battery can be removed for recharging. Not a huge issue. And clearly other cameras may not have this issue.