Re: 10 meter ARRL Contest this weekend.
---
Well, for all intents & purposes, the contest is over for me. The QRM is too bad to continue, but it was fun while it lasted. I finally got over the hump with Alaska after trying for 3 years to make a contact, and picked up two this afternoon...KL7SB in Anchorage, and WL7BDO in Nenana, SW of Fairbanks. Four new countries and Alaska is a pretty damn good weekend on 100w and a wire antenna.
__________________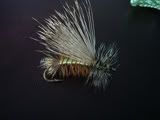 Time to go fishin'


"I'm no gynecologist, but I'd be happy to take a look..."